On Barbados

Eine knappe Woche konnten wir Badeurlaub auf Barbados machen.
For a week we've been in beach holidays on Barbados.
Una semana que hemos estado vacaciones en la playa en Barbados.
Une semaine nous avons été en des vacances à la plage sur Barbade.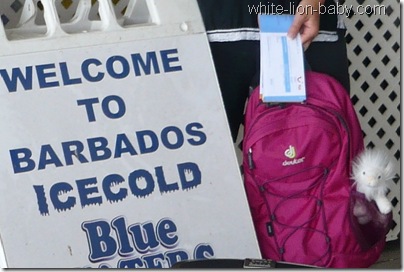 Ankunft auf Barbados
Arrival in Barbados
Llegada en Barbados
Arrivée à la Barbade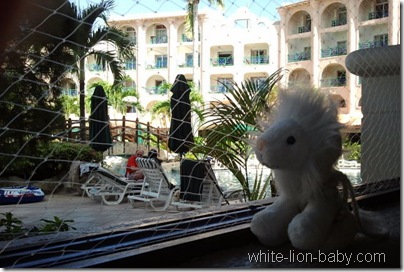 Das Restaurant war mit Netzen gegen herein fliegende Vögel gesichert – Glasscheiben gab es hier nicht.
The restaurant was safeguarded against birds flying in with nets – there weren't glass plates.
El restaurante fue asegurado con redes contra en el vuelo de las aves – no hay ningún cristal aquí.
Le restaurant était protégé contre des oiseaux qui volaient dans avec des filets – Il n'y avait pas de vitres ici.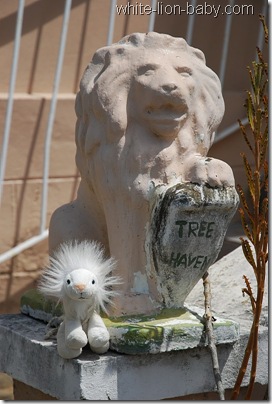 Gegenüber vom Hotel habe ich diesen steinernden Löwen entdeckt.
I have discovered this lion of stone opposite of the hotel.
Descubrí este leones de piedra frente al hotel.
J'ai découvert ce lion en face de l'hôtel en pierre.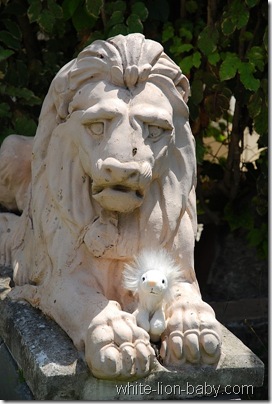 Und hier noch ein liegender Löwe vor dem Haus.
And here still a lying lion in front of the house.
Y aquí hay un león yacente frente a la casa.
Et ici encore un lion étant devant la maison.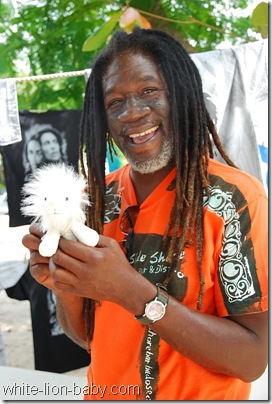 Auf der anderen Straßenseite sind wir T-Shirt-Verkäufer Steve begegnet.
On the other side of the street we have met T-shirt seller Steve.
En el otro lado de la carretera nos camiseta vendedor conoció a Steve.
Sur l'autre côté de rue, nous avons rencontré du vendeur de t-shirt Steve.

Ab 1 Min. wird's interessanter…
After 1 min it gets more interesting…
Después de 1 minuto se pone interesante…
Après 1 min, ça devient intéressant…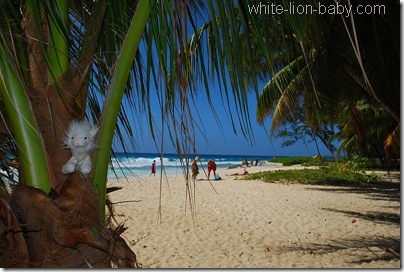 Ist das nicht ein traumhafter Anblick von Strand und Meer?
Isn't this a wonderful sight of beach and sea?
¿No es una maravillosa vista de la playa y del mar?
N'est-ce pas une merveilleuse vue de plage et de mer ?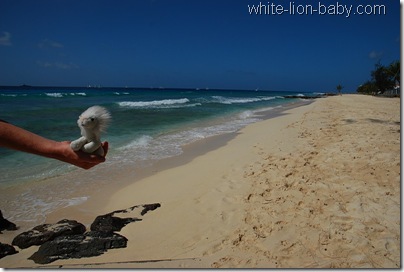 Uiii, ist aber windig hier!
However, uiii, is here windy!
Uiii, está ventoso pero aquí!
Uiii est cependant venteux ici !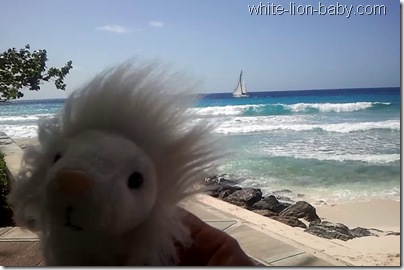 Der starke Wind ist auch bei der Videoaufnahme zu hören (Bild anklicken).
The strong wind can be heard also at the video recording (click on the picture).
El fuerte viento puede ser escuchado en la grabación de vídeo (clic en la imagen).
On peut aussi entendre le vent violent à l'enregistrement vidéo (cliquez sur l'image).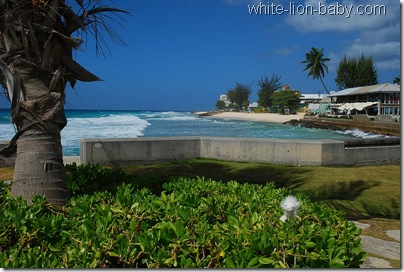 Da hinten ist die schöne Strandpromenade leider zu Ende.
Unfortunately, the beautiful seafront comes to an end here behind.
Por desgracia, el hermoso paseo marítimo termina ahí.
La belle promenade de plage se termine malheureusement derrière là.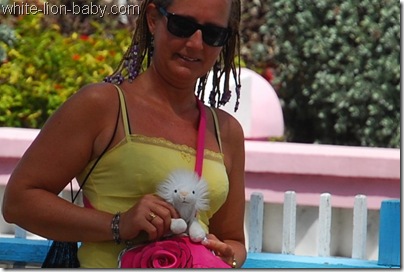 Juhu, aber es ist alles so schön bunt hier.
Yeah, but everything is so beautifully colored here.
¡ Sí, pero es tan hermoso colorido aquí.
Juhu cependant, tout est il si bien multicolorement ici.
Einen Tag ging es nach Bridgetown, der Haupstadt von Barbados.
We walked to Bridgetown for a day, the capital of Barbados.
Un día fuimos a Bridgetown, capital de Barbados.
Nous allâmes un jour à Bridgetown, la capitale de Barbade.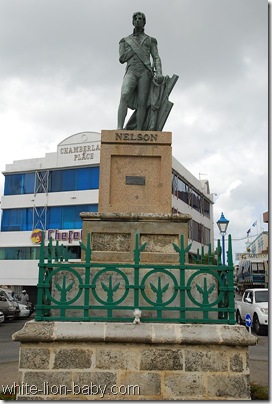 Ja, ich sitze hier am Nelson-Denkmal, das fast 30 Jahre älter ist als die Nelsonsäule in London.
Yes, I sit here at the nelson monument which is almost 30 years older than the nelson column in London.
Sí, estoy sentado en el monumento de Nelson, que tiene casi 30 años más que la columna de Nelson en Londres.
Oui, je suis assis ici au monument de double clef à la nuque qui a presque 30 ans de plus que la colonne de double clef à la nuque à Londres.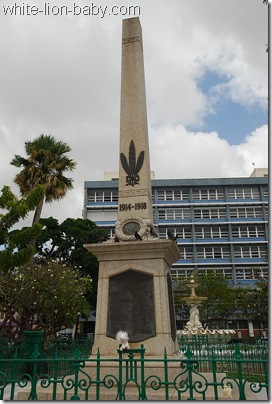 Und hier am Obelisk, einem Kriegsdenkmal, das 1925 zur Erinnerung an die gefallenen Soldaten errichtet wurde. Im Hintergrund ist der Dolphin Brunnen (Dolphin Fountain) zu sehen.
And I am here at the obelisk, a war monument which was set up for the memory of the pleased soldiers in 1925. The Dolphin Fountain can be seen in the background.
Y aquí estoy en el Obelisco, un monumento de la guerra, que fue construido en 1925 en la memoria de los soldados caídos. En el fondo, el delfín se ve bien.
Et je suis ici à l'Obelisk, un monument de guerre qui fut érigé en souvenir des soldats tombés en 1925. On peut voir la fontaine de Dolphin dans l'arrière-plan.

Er wurde in Erinnerung an die ersten Wasserleitungen der Stadt gebaut. Und ich muss jetzt wieder in den Rucksack, damit ich nicht ins Wasser falle…
He was built in memory of the first water pipes of the town. And I must into the rucksack now again so that I don't fall into the water…
Fue construido en memoria de las tuberías de agua en la ciudad. Y tengo que ahora de nuevo en la mochila, para que no caer en el agua…
Il fut construit dans un souvenir des premières directions d'eau de la ville. Et je dois aller de nouveau dans le sac à dos maintenant pour ne pas tomber dans l'eau…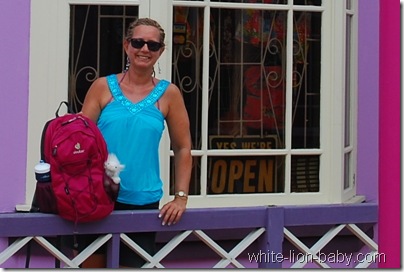 Am Ende des Stadt-Rundgangs ging's noch zum Pelican Craft Centre, aber es hatte fast alles zu.
We still went center to the Pelican Craft at the end of the town tour but everything almost had closed.
Al final de la visita de la ciudad, fuimos al centro de artesanía de Pelican, pero casi todo estaba cerrado.
A la fin du tour de ville, nous allions encore au centre de Pelican Craft mais tout avait presque fermé.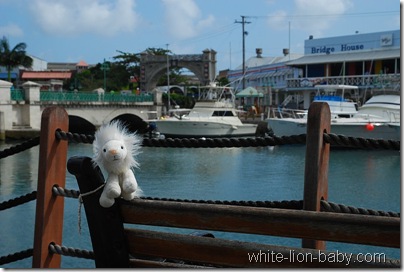 So sind wir schließlich wieder am Hafen von Bridgetown angekommen.
So we finally have arrived at the port of Bridgetown again.
Así que, por fin hemos llegado en el puerto de Bridgetown.
Nous sommes finalement de nouveau arrivés ainsi au port de Bridgetown.