About
Hallo – ich bin DAS kleine, weiße Löwenbaby!
Schaut' mal, was ich bisher schon alles erlebt habe…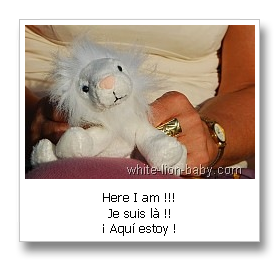 Hello – I am THE small, white baby lion!
Looks ' here, what I have already experienced till now…
Hola – soy EL pequeño león-baby blanco!
Mira, lo que he visto hasta el momento todo…
Salut – je suis LE petit bébé de lion blanc!
Regardez'peins, quoi j'ai jusqu'à présent déjà tout vécu… 
Wer ist das kleine, weiße Löwenbaby? – Who is the little white lion-baby?
Das kleine, weiße Löwenbaby ist aus einem Körbchen "gesprungen" und hatte sich ganz plötzlich und unverhofft an die Hand von Sylvie geklammert. Seitdem ist es bei fast allen wichtigen Dingen mit dabei. Es begleitet uns auf Ausflügen und natürlich auf allen Reisen.
The little white lion-baby has jumped from a basket and had quite suddenly and unexpectedly held tight at the hand of Sylvie. It is with us at almost all important things since then. It accompanies us on excursions and of course on all journeys.

Und wie ist die Idee mit dem Löwenbaby-Blog überhaupt entstanden? – And how has the idea arisen with the white lion-baby blog at all?
Dadurch sowie durch die Reaktion von Menschen, denen wir begegnet sind – und auch Tieren(!) – ist die Idee entstanden, einen kleinen Blog aus den Erlebnissen zu machen. Und es gab doch da mal einen Gartenzwerg, der die ganze Welt bereist hat…
The idea has arisen from this as well as by the reaction of people whom we have met – and also animals – to write the experiences in a little blog from this. And there was a garden gnome anyway there which has traveled to the whole world…
Gebt uns Rückmeldungen – Send us your feedback!
Wir hoffen, dass allen die Löwenbaby-Website gefällt und für Unterhaltung sorgt! Wir freuen uns über Reaktionen, Kommentare, Fragen, Vorschläge und auch Kritik sowie die Teilnahme an der Abstimmung.
We hope that everyone likes the lion-baby website  and it provides entertainment! We are pleased to get your feedback as comments, questions, suggestions and also criticism as well as the participation in the voting.
Ich bin jetzt bei YouTube; geplant sind noch Accounts bei Twitter und WhatsApp – I am on YouTube; come soon: Twitter and WhatsApp
Damit niemand Aktualisierungen und neuen Geschichten verpasst, wird es auf diesen Plattformen voraussichtlich ebenfalls Accounts geben.
Bei YouTube bin ich auf meinem Kanal "white lion babys clips" zu sehen!
For nobody to miss any updates and new stories, there most likely also will be accounts on these platforms.
I can be seen at YouTube on my channel "white lion babys clips"!